Setting Up and Testing Technology for a Conference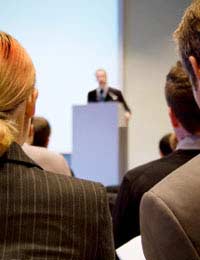 Setting up technology for a conference is both easier and harder than it was in the recent past. It's easier because there are now de facto standards for presentations and display technology so there are fewer options and bits of kit to test. It's harder because everything is more computer-driven, and speakers and presenters are rarely IT experts so you need to make sure that cover is available.
What Support Does the Conference Venue Offer?
If you are using a full-time conference venue or a venue that has lots of experience in presenting conferences, even if it's not their core business, then you are likely to find that there is in-house support for the audio-visual technology installed in the lecture theatres and halls.
We covered the technological requirements for displaying powerpoint and other multimedia presentations in our article in the 'Setting up a Conference' section, this article is more about the problems you might encounter during the conference itself. You need to be sure what cover the venue is providing for technology and what, or who, you might need to fill any gaps.
Presentation Methods Testing
Testing is of paramount importance. If at all possible, gather the presentation requirements of every speaker and see if you can replicate them in the rooms they will be using. This should be done during the setup on the day before the conference to allow for fixes to be implemented if necessary. Make sure that all the different connectors are available to hook up each speaker's laptop. There should be SVGA, S-Video and HDMI as a minimum for laptops and composite video as well.
If anyone is intending to show a video or DVD, or some other audio-visual content it is nowadays most likely that it will be shown via a computer. So as long as you can get a powerpoint presentation to show on the big screen then it will show anything else that is on the screen of the laptop. You might find that people will bring tapes or discs in which case you will need to provide a player if there isn't one at the venue. If this is the case than a SCART interface to the projection system will be required.
Wireless and Internet Connectivity
The technology for a conference these days includes Internet connectivity, and probably wireless networks, as well as the necessary projectors and connectors required to broadcast speakers' powerpoint presentations. Delegates and speakers alike now expect to be able to bring a laptop and connect to the outside world with it.
If the venue you are using does not have a wireless network then there isn't a great deal that can be done about it. Although it's possible to bring along a wireless router it's unlikely that a venue would allow you to plug it into their network. Also setting up the necessary ADSL line for it would take too long and require the venue to allow you to change one of their telephone lines, so again they are unlikely to allow it.
Use Mobile Networks
If there is no wireless connectivity, and it's not going to be possible to set it up for the conference, then make sure that delegates and speakers are aware of it so that they can make other arrangements. Mobile phones can be used as modems and 3G USB dongles are now available; these make it very easy to connect over the mobile phone network.
If people know in advance they will need something like that then they can arrange it before they arrive at the conference rather than arriving and then blowing a fuse because they can't get their email.
You might also like...