Choosing a Company Meeting Venue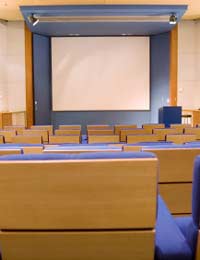 Choosing a venue for a an internal company meeting or conference, as opposed to one where members of the public are invited, isn't going to be that different: you need to find somewhere that's in a suitable location and can handle the right number of guests at the right price. But, depending on the nature of the company and the subject of the conference, you might want to find somewhere that's a little out of the way to avoid the wrong kind of attention.
This might be because the company holding the meeting wants to keep their products under wraps while training their new sales or support staff. Or it could be that the company operates in a sensitive area and they might think they could be targeted by activists or terrorists.
Private Venue for a Company Meeting
This puts countryside locations at the top of the list for company meetings. Not only is it easier to vet attendees and put a security perimeter in place, being more isolated means that staff are more likely to focus on the subject to hand and less likely to be distracted by social distractions is the nearest town in some distance away. Most country conference locations also have the mix of meeting rooms of different sizes that will be required for break-out meetings and seminars as well as larger get togethers.
In fact, even if there's no sensitivity, a country location might well be preferred purely because of that feeling of disassociation from work. Staff are more likely to take a new look at their work and how they do things if they are out of the day-to-day melee. That can be of greater importance if the purpose of the company meeting is team building, leadership development or some other personal improvement area.
Meeting Rooms and Costs
Choosing a venue is also, as was pointed out at the beginning, about finding one that's the right size and cost, and here there are perhaps more options for trimming costs than at a public conference. A company is less likely to feel the need to impress at an internal company meeting, so a cheaper venue might do the trick. However, if the venue goes too far down that road there's a chance that staff will begin to think that the company doesn't think too much of them, so it could backfire.
To some extent this depends on the culture of a company. Organisations working in the third sector such as charities, co-ops or not-for-profit organisations, would probably be expected to choose venues that would not cost a great deal of money. Their staff, assuming they shared the values of the company, would probably be outraged if a plush hotel or conference centre had been paid for rather than money saved and put to better use.
On the other hand a more profit-oriented commercial company might get into problems with staff if the venue is not opulent enough, as staff might expect to have lavish sums of money spent on them and be offended if they detect penny-pinching. As usual a choice like this can be a tricky balancing act and only experience will help to get it right.
Look to the Customer
If you are organising a conference for a company but you don't work for them then many of these decisions can be pushed back onto the person responsible within the company. They will have seen other internal meetings and know the blend of conference settings and meeting rooms that are required. It can be a lot easier if they can give you clear directions.
You might also like...