Troubleshooting at a Conference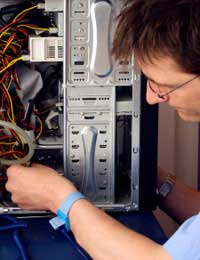 Managing a conference can be truly exhilarating and part of that comes from the challenge of troubleshooting all the problems that come up during the conference itself. Many people are attracted to jobs of this kind because of the adrenalin-rush that a problem induces and the intense satisfaction that comes when a solution is put in place.
However, it is possible to go too far. Good preparation and having contingency plans can go a long way towards a trouble-free conference. Pulling together all the various different resources and people required for a conference is a mammoth feat of organisation and having a backup plan to cover for every eventuality should mean that ad hoc troubleshooting is restricted to small scale problems to which solutions can quickly be found.
Troubleshooting Technology
For example, you might not be able to test that every single speaker's laptop will connect with the conference venue's audio-visual equipment, but it's worth having a laptop available that has all the popular operating systems and presentation packages on it. By having this on standby at all times, troubleshooting when a presenter's laptop fails to hook up properly should be restricted to copying the presentation to the spare laptop and starting again.
Make sure you check that all the different OS's and presentation packages work with the venue's systems before each conference though. A backup system needs to be tested regularly to make sure it will work when troubleshooting time comes around.
Teach Staff to Solve Problems
Catering and customer service problems can often require troubleshooting and it's important to make sure that your staff are aware of how far they can go in solving a problem. It could be something like a special dietary requirement that has not been fulfilled or that someone needs to send an urgent fax.
One suggestion, used in many catering establishments, is to give staff the power to say 'yes' to any request that comes from a customer, as long as it is actually possible. They only have to refer to a manager or supervisor if they think they will have to say 'no' to the customer. This usually works because customers will phrase a question so that the answer they want to hear is 'yes' and as long as the request can be fulfilled, staff are empowered to do their own troubleshooting without reference to managers.
Troubleshooting for catering may involve running out of the building to go and get food to bring in, or stepping into the kitchens to take a hand in preparing food if there's a staff shortage. Do what is required to keep everything on track.
Keep Conference Customers Happy
The main point about troubleshooting is to stay calm and focus on giving the customer what they want in a way that makes sense to the business. If you are organising a conference you are likely to have multiple customers, the people you are organising the conference for and the delegates or guests who are attending.
Troubleshooting can be tricky if the needs of those two customers clash, so be ready to take on some tricky negotiating. But, as we said at the top, it's this sort of challenge, and the satisfaction of pulling it off, that attracts a lot of people to the job.
You might also like...