Managing a Conference Team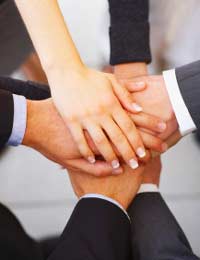 If you've been given the responsibility to organise a conference then it's unlikely that you'll be able to do everything yourself so you'll be marshalling a team of troops to help out. Managing that team will be vital to achieving a smooth running conference.
Simple Team Management
The methods used to achieve this will not be a surprise to anyone who has managed a team, as they are the basic underpinnings of any staff management role. It's all about making sure that everyone has clear roles and responsibilities and keeping communications tight across the team. Staff should be given the responsibility to carry out the roles that have been assigned but know when they need to refer to you for clarification or for a decision.
Start by breaking down all the jobs, roles and responsibilities that you will have to be done throughout the length of the conference. These will differ from conference to conference and from venue to venue, as the staff and resources required and available are likely to be different in each case.
Making Jobs Clear
To be completely honest, writing out role descriptions for your team is not the most glamorous or exciting of jobs. It is worth knuckling down to though because the alternative is that you could have some jobs not being done by anybody and others being done by more than one person. This will make you look stupid and affect the overall impression that delegates get about the professionalism of the conference.
One solution that might improve the effectiveness of assigning a role is to involve each staff member in the discussion about their jobs. They may well be able to fill in some gaps that you might not have thought of and are more likely to follow through with something that they have been involved in.
Managing Teams at a Conference Centre
Managing a team at a conference can be more difficult if the venue is providing a number of the staff. Catering will often come from an outside firm and many conference venues will provide their own support staff to look after presentation equipment and related computing infrastructure.
The key to this situation is to find out who's managing each team and make sure that they know the people in your team who are handling the related jobs. Make sure that they also have your contact details and subtly impress upon them that, as delegates are your customers and you are the customer of the venue, any issues, problems or decisions are referred to you, not taken by staff that you have no responsibility for.
In a professional purpose-built conference venue this is unlikely to be a problem as their staff will have worked with similar relationships with other corporate clients. It tends to be more of an issue with venues that are doing conferences as a sidelines and don't have dedicated staff with conferencing experience.
Don't be Afraid to Take on Jobs
In these cases you will often have to take charge, even if it means getting into the kitchen to cook meals for conference delegates.
You might also like...