Accommodation for Conference Guests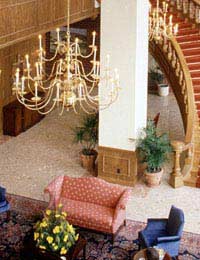 In our articles on conference venues and locations we touched on the fact that you'll almost certainly be expecting guests to sort out their own accommodation and travel arrangements. However there are two things that conference organisers need to know.
Don't Get Sucked into Booking Accommodation
The first is that you will still be required to provide a list of hotels that are near to the conference location. This list should have brief details about the hotel; contact details, sample prices, distance from the conference venue and level of accommodation offered, perhaps a little more. The second is that many conference guests will simply not read the information you've sent them and still ring up asking you to book their accommodation for them.
There's not much you can do about that second point, apart from give up and start making bookings for them, but that's a road you really don't want to go down. Apart from the fact that you'll have enough on your plate, if the accommodation is not up to scratch in some way then in the eyes of the delegate that becomes your problem. Far better to step out of the way and let guests deal with hotels direct. You are strongly advised to just keep sending them your hotel list until they give in.
Research Hotels for Your Conference
The hotels on the list do need some research though, largely because it will be seen as a recommendation of the hotels on it, no matter how many times you state on the list that it isn't. And although you need to cover a wide price range, be wary of going too cheap, as poor quality accommodation will reflect on your conference.
It's worth going to visit each one and look around, checking out the public rooms and dining facilities as well as looking at a few bedrooms and suites. It's alright for a hotel to be a little downmarket if it's reflected in the price; after all, not all your guests will be able to pay top-notch prices. But it's not alright if the lower price reflects poor standards in cleanliness and service quality. Similarly the expensive hotels should be demonstrably better than the mid-range or lower priced accommodation on offer.
Distance from the conference venue is important as well as easy ways of travelling between the two. It's helpful if the hotels have courtesy cars but in the UK this is only really likely in very expensive hotels, large airport hotel complexes or specialist residential conference centres out in the countryside. A list of responsive taxi firms in the area might be a good standby.
Get a Deal on Accommodation
Finally, on your visits you ought to enquire about special rates for your guests. The more delegates you are offering the better the discount rate will be so the larger your conference is the more advantage you will have. As well as finding out the hotels' standard room rates from their websites, try phoning first, posing as an ordinary business traveller and see what rates you can get for rooms. Then you will know whether the rates you are being offered for your guests really are good discounts.
You might also like...
Research and list places that can accommodate before you send out any literature for the conference. Try to arrange preferential rates beforehand, as this can be an inducement to attendees to book at a particular place, especially if the rate is very good. That takes work on your part, but it can boost the numbers coming to the conference, especially if the hotel is very close to the venue, so it's worth the time and effort.
Chris N
- 7-Jun-12 @ 2:27 PM