Booking Speakers for a Conference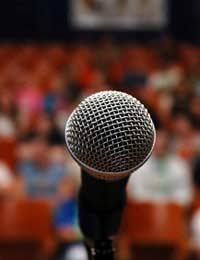 All conferences need good speakers, not just to entertain delegates when they are there but to attract them in the first place. How you get hold of each speaker differs depending on the nature of the conference, the body that's holding it and the relationship between them and the organisers.
If you are planning a trade show for a particular industry or sector then it is likely that a representative association will be hosting the conference and that many of the speakers can be provided by their committee. If there is a need for extra speakers then they can usually be obtained from the senior management of major companies in the relevant sector.
Conference Speaking as Publicity
Sales directors are likely to see a request for a speaker as an excellent opportunity to raise the visibility of the company in the eyes of their peers and the market at large. Managing directors and chairman will often see a speaker request as flattery and be happy to take up the position themselves. The difficulty comes when getting a technical person, or a person who isn't in a position where they deal with the public a great deal, to appear as a speaker. Sometimes it's best to try and get them on stage with a more confident colleague next to them.
It's not often that these positions will be paid. Companies will be happy to do them to raise their profile as long as the event is the right one for them. They will also often believe that appearing as a speaker at a major conference is a good thing to have on their CV, something that will enhance their career, and this is probably true too.
Hiring a Public Speaker
When planning a conference with a wider audience you are likely to need to hire public speakers, either for entertainment or because they are experts in their field and public speaking is one way that they earn a living. There are a many websites where agencies have lists and summaries of public speakers on their books, be they celebrities, politicians or academic experts. They will also detail the subjects they cover although it's not often that rates are shown, enquiries may have to be made to find those out.
It's also worth having back-up speakers on standby. This is particularly relevant with academic speakers as they may well simply forget that they are to appear on a certain day as a speaker. Back-up speakers may be a little miffed that they aren't the front-line speaker so you have to be careful with your choice and explain that it's not a first and second choice but you need someone prepared to step in case of illness or accident.
Mind Your Language
One final point to make that's particularly relevant if you are organising an international conference in the UK, is to check that the speaker knows you will expect them to speak in English, and that they are comfortable with that. It seems obvious to us, but it may not be obvious to someone coming from another country where English isn't the first language. So check before confirming a booking.
You might also like...