Hiring Conference Staff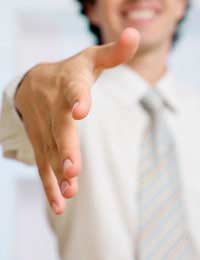 If you've been tasked with organising a conference it's unlikely that you'll be able to pull up all the staff that you need from an existing team. Many conference and event organisers are aware of this so there's a burgeoning market in agencies supplying staff to help out with the running of a conference. But before you get to that point, you might need help with the setting up and organising of the conference.
Employing Help with Organising and Planning
If you're working in a company that wants to host a conference but it's not their core business, you might be best off employing a conference organiser for a short-term contract, perhaps three to six months. If they operate under their own company they can invoice you for a service rendered which might help get around a pay freeze on employing extra staff.
Another alternative is to hire a temp to help you out with the administrative overhead of the conference. You would definitely pay less but the onus of the conference organising will lay with you and other staff that you might be able to second. If you have the relevant experience then it could be a better solution.
Using Agencies for Conference Staff
When it comes to the conference itself you may need to hire support staff to perform security tasks, registration and other secretarial and administrative tasks, and perhaps IT and audio-visual staff to operate specific equipment as well. Catering staff and waiting staff will almost certainly be provided by the catering operation, whether it's in-house or outsourced and regardless of whether they are hired by you or the conference venue.
IT staff may be made available by the venue or the company you hire the audio-visual and technical equipment from so you are unlikely to have to be employing them. This may also be the case with security staff, in that they'll be provided by the venue, but other administrative staff can be hired from temping agencies rather than employing them direct.
Staff Can Take Leads at a Conference
Promotional staff can play a big part at conferences although they are more likely to be seen at those that have an exhibition element. Promotional staff can be used simply to hand out leaflets or information or they can be used to engage conference delegates to discover their interest in products or any conference follow ups.
An interesting side development of the use of promotional staff is to equip them with electronic data capturing devices (usually enhanced PDAs). Having captured the contact details of interested parties they can be used for follow contact almost immediately.
This can, of course, be done with business cards or taking details down on paper but, with a big event, this can take days or weeks to store, organise and then get in contact. Ion order to do this you will probably need to hire the staff from an agency that supplies them with the necessary equipment as it's unlikely that it's the sort of technology that anyone other than a specialist company will have lying around ready to use.
Organise Before Employing
The main thing with the staff provision for the conference itself is to find out early on which staff you will be provided with by the venue and other service suppliers. From that you can work out the ones that you may have to be employing, even if it's only for the duration of the conference. Then it's time to start enquiring from conference and event agencies to find the extra staff you'll need.
You might also like...