Arranging Conference Catering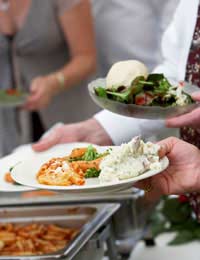 Arranging conference catering can be a little like walking on a tightrope – you want to be seen to be treating your guests well but you don't want to spend too much money. The extent to which you can control these two factors depends on how the conference is set up and the options available at the venue.
Decide on your Catering Requirements First
But first you need to decide what meals or breaks you will need catering for and what sort of meals you want to lay on. It's better to be planning this before you start talking to any catering firms so that you are clear about what you want, rather than being shown different options and trying to fit your event around them.
Assuming your conference is running for more then just one day, there will be quite a few different meals that need planning. You may want to provide a sit-down lunch, since there'll be plenty of options for casual networking in the evenings.
For a one day conference a buffet lunch is probably more appropriate. Apart from the fact that it will be cheaper, it will provide the only opportunity for business networking, since at the end of the day everyone will be too eager to get on the road. In the morning, if a one day conference has an early start, you might consider offering breakfast as an incentive for people to get in on time.
Catering for Breaks is Important
For both one day conferences and those that last longer, you will want to provide refreshments at the break periods. Don't forget to add decaffeinated drinks, a selection of teas, water and juice as well as the usual tea and coffee. And don't underestimate the power of decent coffee instead of instant either, people do notice the difference these days and will appreciate it.
Biscuits are acceptable for a snack at these breaks but perhaps pastries would give a more luxurious air and the extra outlay will not be great. In the afternoon you could consider cakes rather than putting out the same pastry selection that was used during the morning break. Again it's a little detail that will be noticed and appreciated.
In-House Conference Catering
Most conference venues will have an in-house catering team or an outside firm that they work with most of the time. With many venues the conference operation is a side line of the main business that has its own catering, such as a hotel, a university or college or even a pub.
The large stand-alone conference venues in cities and major towns will have catering services and although they are often run by a separate company, they are, to all intents and purposes, an in-house catering team. In any of the above cases you are largely prevented from bringing in a different catering firm, so you are restricted to the menus on offer from those services.
This shouldn't be too much of a problem. If they haven't been able to offer the quality and choice that catering for a large conference centre needs then they wouldn't have hung on to the contract. The only problem is that you are likely to have to pay their prices whether your think they are fair or not.
But then again, everything is negotiable
./p>/p>/p>/p>/p>
You might also like...