Setting a Conference Agenda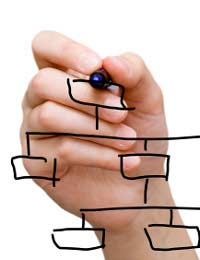 The most important thing with an agenda is that it is approved by whoever is holding the conference, and that's not necessarily the person organising it. It can be a real nightmare managing this scenario if you are the one doing the organising and the best thing to do is start early.
You need to get the agenda agreed in draft form as quickly as possible and this will stress your time management skills. It doesn't have to be very specific, just put in relatively arbitrary times for breaks and lunch, evening sessions if there are to be any. You can then begin to put in the items that will be there for any conference.
Start with a Skeleton Plan
You can probably guess the start time from the location and knowing where the majority of the delegates are coming from. Then allow the hour or half hour before the start time as registration and coffee. This will allow the early arrivals time to register in comfort and have a drink and hopefully by the time the start rolls around most of the attendees will have arrived, registered, and taken a seat.
At the same time you can probably guess the end time, or the finish time for each day if the conference is to be held over more than one day. You can also assume that there will be a keynote speech from someone important at the end of the conference, and that if it is a long conference then it will probably finish early on the final day. Then divide the day into chunks with lunches and breaks in suitable places.
Learn From the Past
Once you've got that skeleton in place, look at previous conference agendas and timetables, if there has been a precedent, to see how close you've come to what they had before. Doing a plan without referring to a previous agenda in the first place means that you can plan from a fresh start. If there are good things about a previous agenda then you can bring them back in.
Then get the gaps in between filled out with draft suggestions, it doesn't matter if you don't have specific speakers in place. So you can simply put 'Speaker on subject so-and-so' and spread the subjects around throughout the length of the conference. Then take this plan to the holders of the conference to see what they say.
Time Management During Approval Phase
The most important thing at this point is the time management of the approval phase. Set a deadline for agreement on this draft plan, no more than a week, depending on how long it will take you to get the conference organised. Hawk the plan around all the people who should have a say in it and all the ones that don't but think they do as well. It's far better to get everyone onside now than try and fix it all later.
At this point you need to don a thick skin. No matter how good your plan is, the people ratifying it will almost certainly change it, because they are in charge. Recognising that is most important, but also make sure you listen to suggestions that have merit too. If there is a direct conflict between two people's demands, ask them to sort it out between them and tell you what to do. Again use time management skills and give them a deadline for a decision.
Time to Get Organised
Once the agenda is signed off then it's time to get organised and put real names and subject matters against all the blocks of time in the conference. But that should be relatively plain sailing because you have an agreed plan to fit them all into.
You might also like...