Setting Out Exhibition Halls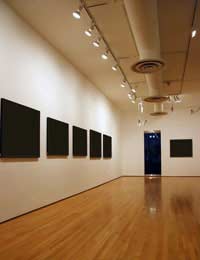 Often conferences and exhibitions go hand-in-hand so it's not unusual to be asked to tackle the arranging of exhibition stand layout if you are planning an event. The exhibition can sometimes be just a room off to the side with stands from interested commercial operators or it can be a huge event with the conference element as a side show to encourage people to come to the exhibition.
Arranging the stands should nearly always result in a standard grid layout. Exhibition stands should be laid out in rows across the room or hall with aisles wide enough for people to pass each other without being jostled. More unusual layouts can be catered for but you should be wary of confusing the delegates as no-one will thank you for that, particularly not the stand-holders who might not get the expected number of visitors if they don't get enough people passing by.
Key Aspects of Planning Layouts
There are two main aspects of arranging an exhibition space at a conference venue. Firstly there will be different stand positions that exhibitors will covet more than others. Central positions and those near the entrance or near catering facilities are generally more expensive than others and those nearest the toilets tend to be the least attractive.
The second aspect is that some exhibitors will want to spend more money to get more space. Exhibition stand floor spaces are usually in units so that people who want more space can take two or more of them and those who only require a small presence can take one.
A Menu for the Venue
This effectively leads you into a situation where you will have a menu of stand units for exhibitors to choose from, where they will pay more or less money depending on the amount of space that they require and the value that they place on different positions. Once you have filled all or most of the spaces then it's time to turn to planning and arranging the stands.
Once everyone has made their choice there will still be some arranging to be done though. Planning for the exhibition stand layout should take into account the positioning of stands and the sort of attraction that the stand holders are thinking of having. It's not a good idea, for example, to allocate the placements either side of the main entrance to companies holding full-on audio visual extravaganzas.
Apart from the fact that each may make it impossible for the other to be heard, it will also result in a bottleneck of people crowding the entrance and no other stands will get a look in.
Exhibition Hall Planning Software
There are numerous software packages to help with the planning and arranging of the stands at the venue, many of them coming as part of event arranging software that can do a lot more than floor planning. But it may be quicker in the long run to resort to cut-outs on a paper layout, as long as you get the scale right.
Although it sounds like a bit of messing around it would probably be easier and faster than learning a new software package just for a one-off event.
You might also like...