Catering Tips for Exhibitions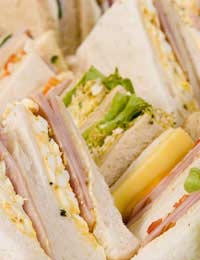 Catering for a conference with an exhibition attached to it is a little different to catering for a conference in its own right. The main difference is that you will not be able to control when and where people can take food on board as they are more likely to pick and choose what they want to do throughout the day. This makes planning a little trickier.
Planning Around a Conference Agenda
With a conference that doesn't have an exhibition element you will be able to dictate, to a certain extent, when and where refreshments and meals will be taken, and therefore the load on the catering operation. Coffee, tea and other drinks, perhaps along with cakes and snacks, will be required during the mid-morning and mid-afternoon breaks, and possible also in the morning when people are arriving.
Then the main meal of the day will be taken during a scheduled break in the conference programme. This will allow time for a good meal and for delegates to phone in to the office or do anything else that is necessary. Obviously there will occasionally be a delay, or the programme may finish earlier, so catering staff need to be on their toes in order to make sure that they are flexible enough to react to changes in the catering timetable.
Exhibitions Make Food Planning Trickier
But when there's an exhibition going on at the same event the catering needs to be a lot more flexible. You do not have the luxury of being able to put a timetable around the presentation of meals. Some delegates will be following the conference programme very closely and others will only go to the exhibition stands and ignore the conference sessions.
But the most likely scenario is that the majority of delegates will be picking out some conference sessions that they feel are most relevant to them and browsing the exhibition during the conference sessions that don't interest them.
So although you can assume that you will be catering for a surge of people taking lunch from around noon to 2pm, you will need to make sure that snack food, drinks and full meals are available from a number of different locations around the conference and exhibition venue throughout the day.
Working Around Exhibitions
This takes some careful planning but fortunately most venues that are catering for mixed exhibitions and conferences are well aware of the implications. They usually handle it by having two distinct types of catering outlets, often run by external caterers rather than the venue itself.
The first are cafes where hot and cold drinks and snack food are available all through the day, from small food items such as crisps and biscuits through to sandwiches and perhaps even grander nibbles such as filled baguettes. The second will be full on restaurants where multi-course meals can be obtained.
Offering these two options should allow people to quickly and easily pick the service they require and should make planning for catering easy. It does depend on the facilities available at the venue but if you have to have both types of catering in the same room, try and use signage to make it plain what's on offer at each catering point.
You might also like...