Allocating Seminar Rooms at a Conference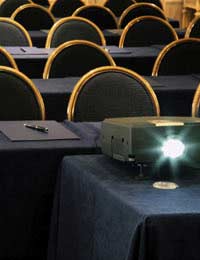 When a conference is being run with an exhibition alongside it then it can be tricky to allocate enough space for the various different demands on the conference venue. If it's a conference that's been run a number of times before then you can fall back on experience to point the way, but if it's the first time then you need to get all the requirements out of people and have a couple of rooms spare in case of emergencies.
Conference and Exhibition
It's not unusual to run a conference and an exhibition alongside one another. Sometimes a conference will have a room to one side with exhibition stands from relevant manufacturers or other organisations. This is more there as something for delegates to wander around during the breaks rather than an exhibition in its own right. It could be the other way round too, that a large exhibition has a programme of seminars taking place to the side with relevant speakers presenting.
It doesn't really matter a great deal which of the two aspects of the event, conference or exhibition, is dominant. The exception to this might be that conference space, such as seminar rooms, might be squeezed out if the organisers consider that the exhibition is the main breadwinner. The approach is the same in either case, find out what your speakers and customers are expecting and line up the appropriate rooms.
Seminar Room Layouts
You need to be familiar with the terms used for room layouts. There aren't any standards, unfortunately, but they are generally fairly descriptive. So if a venue talks about conference rooms laid out in theatre style then they will be large rooms where all the chairs are arranged facing a central dais or stage. The same rooms in banquet format will have chairs positioned around a number of large tables, a layout sometimes also known as cabaret.
With seminar rooms there tend to be descriptions such as boardroom, where all the chairs are around one table or U-shaped, where the seating is all arranged in a semi-circle around a focal point at one end of the room. Classroom style describes another option where the chairs will all face one way but are behind desks. A venue might well talk about a theatre or banquet setting for seminar rooms as it describes the layout, not the size.
Restrictions of the Venue
Finally, be aware of the restrictions of the venue. In a major conference venue the emphasis will be on flexibility of the available spaces, so you will find rooms that can be separated into individual rooms or opened out to form larger spaces. In other locations, such as hotels or educational establishments, there may not be that same degree of flexibility with seminar rooms.
If that is the case, go back to your requirements and check that nothing has changed, as last minute changes to the programme or agenda may mean you are able to work with the seminar rooms available. If not, it then it will be time to look at a new venue or changes in the programme.
You might also like...