Setting Up and Taking Down Exhibitions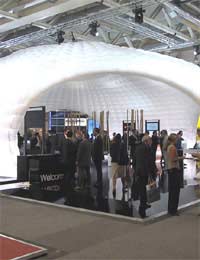 Setting up and taking down exhibitions can be a very stressful affair and it needs a cool head on the day, particularly the setting up. Good planning in the first place goes a long way toward making the arranging of stands before exhibitions a lot easier.
Planning and Arranging Spaces
This planning starts way back before the start of the conference when exhibitors are booking their exhibition spaces and negotiating for them. All exhibitions will have a menu of prices for the various stand spaces and it's imperative to make it crystal clear which space has been paid for and where it is, otherwise exhibitors will hold each other up arguing over which space is theirs.
Code stand areas on the paperwork that you send through to people and replicate those codes at the venue. Make sure that measurements for the stand areas are accurate too, this will help exhibitors in arranging their stands beforehand so that they don't arrive to set up and find that things don't fit.
Setting Up Exhibitions
Once the exhibitors start arriving in the days before the exhibition your planning and preparation will mean that everyone is one hundred per cent clear as to where they should be setting up their stand, where they need to park and how to get their equipment through to their stand area.
It's worth marking the limits of each stand on the floor to guide exhibitors as they are arranging all their paraphernalia. As well as making it easier to arrange the various stands at exhibitions, it can also stop arguments between neighbouring exhibitors, which you will have to referee.
Removing Stands at Exhibitions
Taking the exhibition down is a lot easier as all the exhibitors will want to get away as quickly as possible and make sure that they have everything that they came with. You must make sure that exhibitors are aware that removing their property is their responsibility. The main responsibility that you will have, as the conference organiser, is to make sure that all the items that exhibitors leave behind get scooped up and taken back to base as the venue won't want them lying around.
Arranging the Clear-Out
Planning for exhibitions should include checking the contract with the venue so that you know who's arranging to clear and empty the exhibition hall. If that responsibility is yours then make sure that you have the necessary people on hand to help out.
You should consider hiring external contractors to do this as clearing out after exhibitions is a job that no-one on the conference organising team wants to do; they all want to get away as quickly as possible. So getting someone in to do the job and be paid for it means that you are more likely to get a proper job done.
Note that, as with many other aspects of running conferences and exhibitions, it's the planning and arranging up front that delivers a headache-free time when setting up and removing exhibitions stands.
You might also like...