Internal Company Conferences and Meetings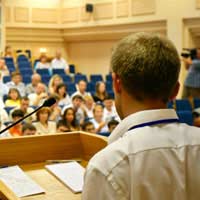 Organising a company meeting or conference, when all the attendees are from one company or perhaps from a group of companies, is a little different from organising a public conference.
The main differences are that there will be (or should be) a clear brief about what is required so that takes a lot of the guesswork out of the arrangements, and the company will be the ones making sure that people turn up. There won't be the stress of trying to sell enough tickets which often accompanies the organising of a public conference.
Why Hold a Conference for One Company?
A large company can hold meetings and conferences regularly as a way of making sure that they are communicating effectively across the business. They can be for training purposes, to kick off a major project, to get all the people doing a similar job for the company around the globe together to compare notes, to get whole divisions together in one place, or, probably the most common, sales conferences.
Getting a large number of people from one company together is often just as much about the socialising and networking outside the speeches and seminars though, so the venue needs to be a place that can facilitate that.
Technical Facilities for Doing Business
As well as rooms large enough for the conference element of the event there is likely to be a need for a number of smaller meeting rooms where pre-arranged and ad-hoc gatherings can take place. It will be necessary to get a list of technical requirements for these rooms as well as the main conference room.
In addition to the ubiquitous projectors, flipcharts and other display materials, it's likely that wireless internet connections will be required too. And, often these days, recordings of the proceedings are required by the company holding the event, so the ability to capture audio and video may be needed too.
Security for a Company Conference
Security is likely to be required and again the requirements may differ subtly from those of a public conference. Keeping members of the public away is a priority and identity checking could be more intense than usual if the company considers there to be a significant risk of industrial espionage. There could also be concerns about infiltration from protest groups if the company's work is at all controversial.
Catering and other support issues shouldn't be too onerous with a company conference. The company ought to be able to provide you with any particular dietary requirements and number should be fairly accurate. Although inevitably not everyone will turn up and not everyone will take every meal, it will be a lot closer to the mark than with a public conference, where much more estimation has to be done.
Choosing a Venue for a Company Conference
Venue choice can be interesting too. A company might want to impress its employees and make them feel valued, in which case they will choose a flagship hotel with lots of entertainment facilities. On the other hand a company may be watching the pennies, in which case they may pick a university in the holiday period or other public building. This may be more spartan but more cost-effective.
One of the common threads though, regardless of the expense of the venue, is that a company conference or meeting is likely to be held in a venue that is self-sufficient and far away from a large town or dirty, with its attendant attractions. This is a way of making sure that people focus on business while the company is paying for everyone to get together.
You might also like...