Different Types of Conferences and Meetings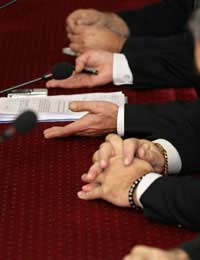 Throughout this site we will give you the information and knowledge that you need to be able to arrange and run a successful conference or large meeting. There are many different types of conference and meeting though, and the boundaries merge a great deal. What we will be looking at in this article is a breakdown of the different types of conference and we will look at each one in detail in later articles.
Public Conferences
A public conference is one where it is up to the organisers of the conference to attract people to attend. There may be a charge levied on attendees to cover the cost of the conference or it may be free, if the expenses are being paid for by the conference holders. They are often held to get people in a certain work sector together to discuss new development and to do business with each other.
In some cases a public conference will be held purely to make money from the people paying to attend. In this case there will be a lot of focus on advertising and marketing the conference to attract paying customers. Conferences that are free to attend are usually either government sponsored, to facilitate some knowledge sharing, or to get a particular group of people together, or they are paid for by a company that has a product to promote.
Conferences with Exhibitions
These are usually public conferences but they will have an exhibition attached where people can view new products and meet suppliers. In some cases it's not clear whether the conference is supporting the exhibition or the other way around, but the difference from a pure public conference is that there are likely to be a number of short seminars or speakers throughout the days of the conference.
Attendees will be free to attend the seminars and wander the exhibitions in an order that suits them, so catering and management of other facilities will need to be more flexible than with a straight conference. These conferences are often sold to attendees on the basis of the business networking that they can achieve, meeting all suppliers in one place and seeing what work they are doing.
Internal Company Meetings
Private conferences are often held when large companies need to get all their employees, or certain sections, together to either celebrate a success or start a new initiative. In companies that are widespread across the globe they are often held to update staff on new initiatives or to inform about new products and staff. Members of the public would not be allowed to attend.
Private conferences can afford to be a little more prescriptive about arrangements since employees of one company can be controlled a little more directly than the attendees of a public conference.
Virtual Conferences
The final category, and one that is increasing in attractiveness to business as travel expenses increase, is the virtual conference. The ubiquity of the Internet and particularly broadband, with its cheap fast connections, has allowed Internet conferences to be arranged with people all over the world. Audio conferences are easier and cheaper as the bandwidth requirements are lower than video.
There are also drop-in video-conferencing suites in most major towns and cities of the world where there will be equipment more suited to sharing diagrams and whiteboards (electronically) than sitting at a desk at work with a web cam.
Find Out More
In the rest of this section separate articles will discuss the issues surrounding each type of conference, then other sections of the site will break down the work of preparing and running a conference into detail.
You might also like...
Appreciate your explanation. thanks
small
- 12-May-11 @ 12:27 PM