What Kept the Conference Interesting: A Case Study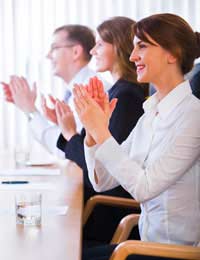 A conference, if poorly organised, can be one of the most boring events on the company calendar. If the conference includes a particularly dull subject matter, other details must be enhanced to keep the conference interesting and fresh.
Keeping delegates and guests interested and focused requires a great deal of effort, which can decide the success of a conference.
When Edward Phillips organised a conference for a group of companies and firms in his industry, delegates praised the event and labelled it a complete success.
Edward Phillips has organised many conference events and explains what techniques and methods he uses to keep the whole event interesting and enlightening.
Ensure Speakers Are Interesting
If the conference subject matter is relatively dull, Edward explains that bringing in some top speakers that can really grab their audience is vital for guests to stay interested.
"On many occasions, the conference material has been on the boring side and was a lot of information for anyone to take in. So, this means you need to make the material interesting by getting your best speakers to present the material. Good speakers are vital and have a fantastic skill of keeping the material fresh and interesting. So, if you have to, bring some experienced, interesting speakers from outside your company in to excite the delegate's senses."
The Venue is Important
As well as interesting speakers, Edward explains the conference venue is pivotal in keeping your guests focused.
"If the conference is in a school hall and your delegates end up sitting on school lunch chairs, you will soon have a group of bored, uncomfortable and agitated guests. You must try and book a venue that is not only aesthetically pleasing but also creates a good ambience and is comfortable. Making your delegates comfortable is essential, as this means that they are not distracted by bad backs and sore legs and are completely focused on the presentations."
Humour Wins
One of Edwards's most effective conference tactics is humour. Applying humour to subject material and the general conference is a guaranteed way of capturing your delegate's interest.
"My most successful conferences have been down to adding a little humour to a conference. This is mainly directed towards speakers and speeches. If I have to book speakers in or have a particularly dull subject matter, I try and make sure the speaker is animated, vibrant and humorous. I usually go to see the speaker prior to booking them and then watch the crowd's reaction. Humour always seems to grab the attention of the delegates and eases the formal atmosphere that comes with long-winded topics."
Making Delegates Comfortable
When it comes to making people enjoy the event rather than loath the whole experience, Edward tries to make the conference comfortable, lively and energetic.
"Ensuring that all delegates are comfortable early on in the conference is very important, as this rids them of anxiety and eases them into presentations and long spurts of information. You can do this by offering a selection of enjoyable drinks and food. Although the catering may seem a minor detail, it actually gives delegates a simple talking point and comforts them."
These tips can help your conference become an enjoyable, successful and interesting event. Make the experience something people talk about, rather than a dreaded conference that has everyone yawning.
You might also like...