Speaking at a Conference: A Case Study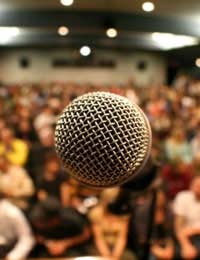 With 15 years experience giving conference talks and oral presentations James Garner offers some advice on how he managed to transform from a quiet shy public speaker to a vivacious, interesting orator.
James recalls his first conference speech "I had practiced my speech many times before the actual event, so I knew I would be able to get through it. However, it was my first conference speech to a large crowd and no matter how much I had rehearsed every line I still had an overwhelming anxiety."
Time and Practice
Becoming a public speaker takes time and practice and even if you are a naturally talented, confident public speaker you should still seek advice and tips from veteran public speakers. Those who have many years experience speaking at conferences and other events will understand the importance of winning over an audience and how to keep them engaged in the subject.
James explains how he became an established public speaker "I had been working for a retail support company offering expert advice on how to sell products effectively. After a year the company decided to hold a large conference for our clients, staff and others involved. Our manager explained that he wanted one of us to represent the company and provide a motivational speech. He then asked us to create a short speech, which we would read out to our team. We all then took turns reading our speeches to colleagues and most importantly our manager. I was quite nervous but enjoyed speaking to an audience and felt I gave a good performance."
"My manager later told me that he would like me to represent the company at the conference and that it was due to my clear, confident speech and a genuine passion for what I was saying that kept him interested."
Giving a Speech
James' abides by a few rules when writing and reading a speech. "Make sure you understand the subject you are talking about; if you don't your audience will detect this and the speech will become useless and unbelievable."
"Also, ensure you are passionate about what you are saying. A speech that you disagree with won't have as much impact as a speech that you feel enthusiastic about."
"And lastly, make sure you feel comfortable and that you speak calmly and clearly. When a speaker is talking too fast or too quietly the audience become restless and the focus is taken away from the speech."
Be Objective
A conference speaker has the ability to connect with an audience that may be there to learn a truly valuable lesson. However, public speaking is not for everyone and even though a company may expect the managing director or company executive to give a speech it may be wiser to offer the position to someone who has a true talent and confidence for conference speaking.
James stresses this point "To all the leaders, bosses and managers of a company, if you feel that you won't be able to give a speech as well as a lower employee be objective and leave your ego at home. If your right-hand man gets the message across better than you be objective and allow them to give the speech, after all, it's for the good of the company and the conference delegates."
You might also like...