What If There is a Problem With Conference Technology?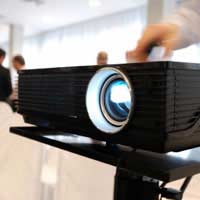 Using technology as a cognitive tool at a conference can be an extremely useful function for explaining and presenting data, information, facts and figures.
The technical apparatus can often make the material you are presenting easier to digest and conference attendees will be able to see clearly exactly what you are putting forward.
Whether you use projectors, LCD screens, slide show software such as power point or any other technology as long as the equipment is set up correctly and has been tested prior to the conference everything should run smoothly. However, what do you do if the technology falters and causes delays to the conference? How can you avoid such problems?
Here are a few tips on how to stop the technology you are using become a burden and ensure it is a used to the best of its capability.
Check, Check and Check again
This may be an obvious piece of advice but interestingly enough a large percentage of conference speakers forget to run through the 'performance' with the technology to ensure it will work correctly at the event. Always check your equipment whether you're using a simple slide show with a projector or a complex presentation with intricate software.
Make sure the slides are in the right order, ensure the mouse works properly, stand at the back of the conference venue and make sure the everything is clearly visible. Before the conference itself you must consider every little detail that could go wrong and check that it won't.
Always Have a Backup
When it comes to technology no matter how many times you check it and ensure that the equipment is ready you are never 100% safe from malfunction or fault. Technology can have a mind of its own and a problem may occur at any moment, which, unless you have a thorough backup, will ruin the whole presentation.
Having a backup to your presentation may sometimes seem a waste of time and unnecessary, however, if for some reason the computer crashes or the projector breaks, that 'unnecessary' backup will save the entire presentation and possibly your job. A backup presentation should be presented with something that will not falter. It is no good putting a backup onto another computer and having that crash too, or if the fuse goes in the plug neither of the computers are going to work.
Therefore, it is best to use a simple format such as a blackboard or large show cards. If your presentation can be written onto paper or a blackboard you are going to be able to continue your presentation regardless of technological faults. The presentation may not be as gripping but it is better than no presentation at all.
Simplicity is Key
Another way of avoiding technological faults is to make the presentation as simple as possible. Don't try and use intricate software packages that you have never used or complex lighting that takes a lot of time and effort, as this will take the focus off your presentation and is likely to trigger a fault at some point through the presentation.
You might also like...