How Can I Conquer Nerves Before a Conference Speech?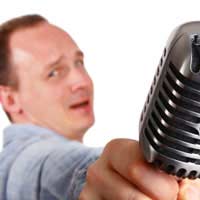 Many people call it butterflies but for others the inevitable feeling of anxiety and nerves that you get before giving a conference speech can become quite debilitating.
Pre-speech anxiety is an extremely common occurrence and can cause the person to sweat, become dizzy and on occasion vomit. However, applying a few effective techniques prior to your speech, those uncomfortable nerves will be relieved so that you can concentrate on the job at hand.
The Causes
Conference speakers become nervous and anxious about giving their speech for a number of reasons. A fear of failure is one of the main feelings that bring on anxiety followed by embarrassment and rejection.
Embarrassing oneself encourages anxiety, which in turn brings on fear. Rejection from the audience is also a benefactor and people become extremely nervous about the crowd they are 'performing'. They believe the audience will judge and ridicule them, which again brings fear into the mind of the speaker.
Interestingly enough, a little pre-speech nerve's can have a positive effect on the speaker. The adrenaline that comes from fear and anxiety, if used correctly, can cause the speaker to give a better performance.
Conquering Your Nerves
Organise – When organising your speech ensure you allow ample time to prepare and research the content of the speech and make sure you include everything you feel should be mentioned to put your point across clearly, this will eliminate a percentage of your fear.
Practice – Again, ensure you give yourself plenty of time to practice your speech. Understanding and rehearsing what you are going to say will relax your mind and encourage a level of calm when it comes to the speech. So practice and then practice some more.
Simplicity is Key – Try not to incorporate subjects that you know very little about. The simpler the speech the easier it will be for you to carry out. If the speech becomes too complex and you start to have trouble getting the point across, your audience will start to become restless. So keep it as simple as possible.
How You Present Your Speech – If possible get hold of a voice recorder and practice your speech into the recorder and listen to yourself. This way you can adjust the way you present your speech. You may be too quiet or you may be talking too fast. Recording and listening to yourself present your speech will give you an idea of how you are going to sound at the event.
Concentrate on the Speech – When giving your speech make sure you are concentrating on the speech itself and not on the lady in the back row with the strange hat. Your audience is there to receive certain information, so as long as you present that information calmly and clearly your audience will be engrossed in the content and not in you.
Ignore The Mistakes – Although this can be difficult, ignoring any errors and recovering from them is the best way to deal with nerves. If you mix up your notes or mispronounce a word just simply rectify your mistake and move on. The audience will probably feel more connected to you if you make the odd mistake, especially if you apply a little humour to the blunder. Nobody's perfect so accept the mistake and move on.
You might also like...