Venues for International Conferences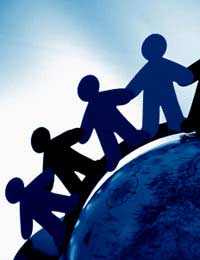 Arranging international conferences based in the United Kingdom presents a few challenges that you don't come across when organising national ones. These are mainly to do with travel and accommodation or language and cultural differences.
Size Matters with International Conferences
Conference centres are keen on using the word 'international' in their title but it's not really clear if that means anything in particular. There's isn't anything that you could reasonably claim to have that's required for an international conference centre that an ordinary one might not have apart from size.
Venues and Locations
And that's probably the underlying issue; if you are having a conference with international delegates then it's almost certainly going to be on the large size so you will need a venue that's used to handling those numbers. Most international conferences are commercial conferences so companies will need to be convinced that it's worth their while sending their delegates.
In terms of locations within the UK it's really London, Birmingham or Glasgow that can easily host international conferences as they have flights coming into their airports from the widest number of locations, London being far and away the winner of that particular contest. If delegates are coming in for conferences on long flights then the last thing they want to do is be travelling out of airports on train journeys or having to drive hire cars for hours to get to the venues, so the closer the venues are to the airports the better.
Travelling and Accommodation Arrangements
It's usually up to conference delegates to sort out their own travel and accommodation but you will need to put out concise and clear information about where the conference is, how to get there and what the accommodation choices are. You could make this easier by picking combined hotel and conference centres at the airports.
The alternative is to pick out a dedicated conference centre in one of the major locations that has a choice of hotels nearby, although it will still need to be close to one of the major airports. Then delegates will be able to choose hotel accommodation that suits their needs and their companies' budgets.
Language Service at International Conferences
With high profile conferences you may have to think about having language services available. We are lucky in the United Kingdom in that English is the most widely spoken second language and is certainly the global language of business at the moment. But to assume that everyone can speak it is obviously wrong, and you may need to make sure that you have translations of important documents available in key languages.
Which languages you choose depend to some extent on where you expect the majority of tour delegates to come from. In certain circumstances you may also have to provide simultaneous translation of speeches as they are delivered, but these can now be arranged in the web and delivered over the phone, which might be easier and cheaper than having a full translation service set up in the conference hall.
Get Details Right at Conferences
International conferences are big business for the United Kingdom and many companies make a good living from hosting them. But it's important to get the details right or companies won't thank you for sending their employees travelling all over the world for a second class experience.
You might also like...